How to wear heels more comfortably
Have you ever scoffed at an outfit described in a magazine as "cozy" or "casual," because the model is wearing heels? Those slouchy boyfriend jeans and leather jacket may be casual, but those strappy high heels are far from it, right? Actually, those heels in the back of your closet actually can be comfortable. With a few slick tips, heels that have been retired for pinching your toes too much can be worn all day. Read on so you can get the full use out of your favorite heels:
Stretch 'em
The oldest trick in the book is to figure out the problem areas of your shoes without giving them a chance to hurt you. If your shoes aren't going to be worn with socks, like a pair of high heel pumps, simply wear them around the house with a pair of thick socks before you decide to take them out on the town. This will stretch any area that may need to be broken in. If you don't have enough time to wear them in, try running a hot hair dryer over the shoes while with your socked feet inside. This can expedite the stretching process.
"Make sure your shoes are secure to your feet."
Lace 'em tight
While you don't want to suffocate your ankle, it's important to make sure that any heel with straps or laces is secure to your foot. Not only will a too-loose shoe rub all of the wrong areas of your foot, especially the back of your ankle, but feeling like your shoes will fall off with each step will cause you to unnaturally grip your toes. This could cause muscle pain in your feet in addition to the rubbing.
Walk like a model
We all love wearing heels because they make us feel sexier. Pair a chic heel with your favorite career dress and leather purse and you're sure to feel invincible. However, that effect is quickly diminished when someone walks like a baby calf in their heels. Walking with bad posture can make not only your feet ache, but your whole body. According to Bustle, when you walk in heels, you should keep your head and spine straight, while completely lifting your legs towards your center while you walk.
Don't take your shoes off
If you're wearing heels to work, it can be tempting to kick your shoes off under the security of your desk. However, this can actually make your feet ache more when you put them back on. Your feet swell throughout the day – which is why you should never go shoe shopping in the morning – so taking them out of the shoes that you wore in the morning, only to squeeze them back in in the afternoon can make you feel like one of the stepsisters in Cinderella. Believe me, sitting with your shoes off isn't worth it!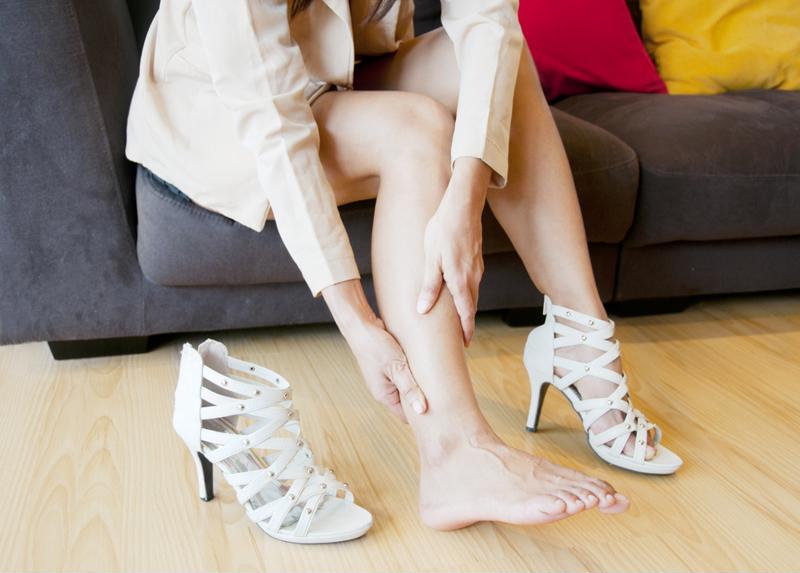 Shoe shape is key
If you have long toes, realize that pointy-toe heels may not work for your foot. Sky-high heels may be more painful for someone with low arches, too. There are other shoes that'll work better for you. For example, a chunky heel will be more comfortable than a stiletto, and you should always opt for a heel with ample padding for the ball of your foot. Sometimes, shoes with proper padding can be more expensive, as higher-end designers tend to use this little trick, but your feet are worth the extra money
Heel hacks
There are a surprising amount of ways you can use various adhesives to make your heels more comfortable. Invest in a sheet of moleskin, a soft cotton with a sticky back, and adhere it to areas of your feet that rub uncomfortably on the shoes. Moleskin is made for this, so it won't fall off or slip around throughout the day like a bandage would. Another way to wear your heels more comfortably is to tape your third and fourth toe together. This sounds like a strange tip, but according to She Knows, when these toes are supporting each other, stress on the nerve on your foot is alleviated.