How to embrace the long sweater trend this season
This season, there are tons of trending styles making their way from the runways to women on the streets, from flare jeans to floral prints and more. One such trend that's skyrocketed in popularity recently is the long cardigan – and we're talking really long. Calf- and ankle-length styles are being referred to as maxi cardigans, and, believe it or not, they're one of the most wearable styles of the season.
These garments are flattering on women of any size or shape, but they also make for perfect fall and winter layering pieces, making them a great addition to your cold-weather wardrobe. Not sure how to wear these long cardigans? Don't worry – we've got you covered with a few tips:
Find the perfect style
First of all, the key to wearing these cardigan sweaters for women is choosing one you feel supremely confident in. Long cardigans are already flattering because of their length – they create a long, straight line down the body, making you appear taller and slimmer. But there are a couple of other style factors you can think about when choosing your maxi cardigan.
First, consider the color and pattern, and find one that you think would coordinate with the most outfits in your closet. Have fun with it, and remember that all-over prints can be slimming. They create an optical illusion, smoothing out the appearance of those lumps and bumps we all have.
You can also look to the neckline and hemline for extra detailing. Billowing or cascading necklines are feminine and flattering, as are asymmetrical hemlines that make for a softer appearance.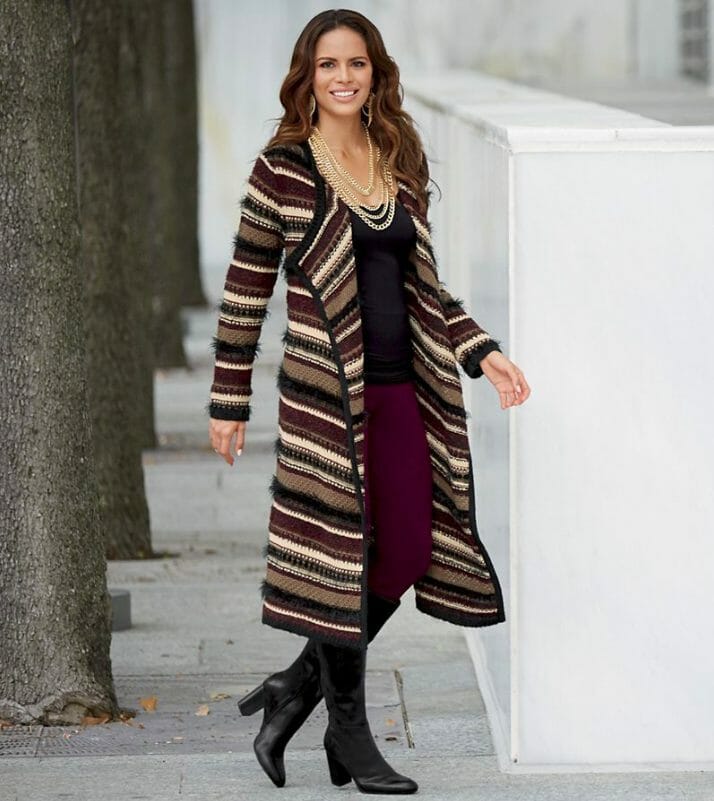 Choose slim bottoms
These cardigans should only be worn with outfits that fit your body closely. Why? Because wearing something voluminous underneath them will add some extra bulk to your appearance. Choose fitted tops and slim bottoms, like leggings or skinny jeans.
Play with hemlines
Because maxi cardigans are so long, you can easily create a visually interesting outfit by playing with the length of your other clothing. Choose fitted dresses or skirts, for example, that are a bit shorter than the cardigan, or wear tall boots over your pants or leggings.
Dress it up or down
Long sweaters are some of the comfiest fall clothing items you'll find, but that doesn't mean they can't be dressed up. Wear them with slim pants or tights and a sheath dress for the office! Of course, they can easily be casual as well – pair one with jeans, a T-shirt and a pair of loafers for a comfy look you can wear all day.
Add a belt
For ladies of any size and shape, garments that flow loosely around the body can be made extra flattering with the addition of a belt. Belting your long cardigan will help you define your natural waistline, giving you an hourglass shape. Plus, it's simply a stylish way to wear the trend! Use a neutral belt that complements the color scheme of your sweater and coordinates with your shoes. Your shoes and belt don't need to match, but they shouldn't clash either.
Accessorize with care
Maxi cardigans make a serious style statement, so there's really no need to pile on a lot of extra accessories. Keep your ensemble from becoming too complicated by wearing simple jewelry, handbags and other accessories. Want to make your look even more trendy? Pair your ankle-length cardigan with a wide-brim hat or a loose beanie and some of your favorite sunglasses. You'll be turning heads all day!
Long sweaters are a fun and exciting style this season, so don't be afraid to rock one you love!
To save on your next Monroe and Main purchase, visit our coupon page.