Vest to impress!
Fall is on its way, and when you want a bold top that keeps you warm while still letting a little ventilation in, a vest offers the best of both worlds. Vests are a fantastic option when it comes to finding a covering that can complement the rest of your wardrobe while having its own distinct look. Perfect for outdoor gatherings or interior get-togethers, a vest is always a safe option whether you're trying to dial it down or dress to impress!
Be super 
Coziness meets lightweight when you don a Down Vest. This thin nylon vest offers you a non-puffy coat option that will help insulate your upper body for added warmth without making you sweat like you're in an oven. It's also incredibly flexible, and comes in both royal blue and raspberry red (two colors that are vibrant and demand attention).
Reverse your fashion 
For a vest that's a little more outgoing, look no further than a Candace Reversible Winter Vest that will be sure to keep you ahead of the pack. This nifty vest comes equipped with two different reversible sides, including one with a faux fur style that can change into an all white quilted side. It's extremely fitting to help provide you with a warm and cozy feeling, and this stylish eye-popping vest choice will spruce up any laid-back outfit, especially with bottoms such as black leggings or darker jeans.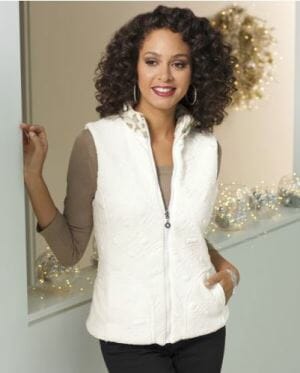 Get sculpted
A Reversible Sculpted Vest is guaranteed to provide your clothing ensemble with a little extra class. Whether you're looking to stay sophisticated in an all winter-white style or flip it over to a more daring snow-leopard look, both sides are sure to boost some fun and flattery to your attire.
Faux is fun
Get the best of both worlds with a vest/dress combo. This alluring combination comes equipped with faux fur collared vest that looks great paired with the acrylic and polyester dress underneath it. This refreshing take on the classic tweed dress fits great and is always a dashing choice for a more elaborate vest option.
Vest is the best
No matter what type of look you're going for, adding a vest to any outfit will work as a complimentary top that will make your outfit stand out just a little more. From the laid back vibes of a denim vest to a more professional collared vest, there are plenty of ways to mix and match these playful jackets into your attire.